Amazing Instructor!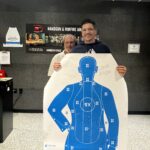 My wife and I had the privilege of attending Terry's CCDW class, and it exceeded our expectations in every way. Terry is, without a doubt, the finest instructor you could choose for such a crucial course.
What sets Terry apart is his dedication to personalized attention. He keeps class sizes small, ensuring that every participant receives the individualized guidance they need. This creates a relaxed and comfortable environment, which is particularly essential for those new to firearms.
Terry goes the extra mile by imparting essential skills, such as firearm maintenance and safe handling practices. His expertise in the realm of conceal and carry laws is truly impressive. He not only answers all questions with patience and clarity but also instills a sense of confidence when it's time to step onto the shooting range.
We wholeheartedly recommend Terry Powers to anyone seeking a CCDW class. His commitment to his students' education, safety, and comfort is unmatched. In our eyes, there's no better instructor than Terry. Thank you for an exceptional experience.
Jose Cabrera
Terry Powers is a very
Terry Powers is a very outstanding CCDW trainer, very knowledgeable and engaging with the content and teaching you about all the do's and dont's of the law. I would highly recommend him to someone that is looking to get their CCDW license.
Austin Walker
Outstanding!
Terry is an outstanding instructor. He is engaging,interesting,entertaining,knowledgeable and makes accommodations for the different ways people learn.
I highly recommend his course
Monica DelValle
Awesome Experience
I took Mr. Powers class and it was great. He is a really genuine, nice guy. He was very attentive to all the questions we all had, and very accommodating to anyone who had trouble with anything at all. He makes sure that everyone is educated correctly, and he made sure no one was left behind. I would recommend his class to anyone who is considering carrying a weapon out of state.
Luke Carrick
Terry Powers CCDW Training
Outstanding! Terry is very knowledgeable and kept everyone engaged even when giving others a little extra help so as no one felt left out. He is passionate about what he does and answered every question of the class and when he didn't have an answer he was honest and said so. Terry didn't have an answer for a question l asked and during one of our breaks contacted someone in law enforcement and got the correct information for me. That's what I call above and beyond the call of duty! Folks, Terry's class was the best time and money l have spent in a long time. Sign up for his CCDW class, you can do no better!
Eric C Collier
I really enjoyed the CCDW
I really enjoyed the CCDW class today. I learned a lot of things I didn't know. Terry was an excellent teacher, and he was easy to follow. I am planning to recommend him to some of my colleagues . The experience I received today was very helpful, and I am grateful for this class. Thank you again Terry and staff. A job well done.
Ralph Smock
The CCDW class I took
The CCDW class I took today was very interesting and enlightening. I learned a lot from our instructor, Terry Powers. He was very knowledgeable, and explained everything that I might have missed from the film. I strongly recommend this class to everyone who wants to be more familiar with laws on self defense. In our world today we need to be more educated on what is going on and how to protect ourselves and family.
Carolyn D Maxwell
Just had Terry's class today!
Just had Terry's class today! Enjoyed the teaching and all the things that Terry presented in a very easy-to-understand way! Excellent class!! Excellent instructor!!
Gerri Spradling
Great Class!! Great Instructor!!
Just had the concealed weapon class today and it was great! Terry did a wonderful job explaining and answering questions. He is very personable and does a great job in all aspects of the class! I highly recommend the class and the instructor!!
Gerri Spradling
Great class!
I have been wanting to get my ccdw license for a while but was dreading an 8 hour class. I found Terry & signed up for a class 2 weeks out. It was very informative & interesting. Sure, there were boring parts, but overall I learned so much about the law regarding ccdw. I'm so glad I finally did it! About 3 weeks later I received my certificate & took it into the sheriff's office. Great value & I learned a lot. Terry is helpful all around. I would highly recommend to anyone that wants to carry.
Jill shaw
One of the best..he's right on.
One of the best, he's right on spot about the laws I thought I knew…opened my eyes but also he helped a friend of mine that been carjacked twice. I bought her a protection piece. Not only did she get more education that I could give but Terry and staff helped her fire a brand new weapon and score perfect. A real class act going on in that school. I'd recommend this to anyone over 21…Thank You
Tim harris
Interesting
Terry is a great instructor and makes the best out of the boring parts. Brought in people to talk about things I had no idea about. Gets his paperwork in quickly.
Olivia Moody
CCWD Class
This is the class I was looking for. My wife and I were looking for a course for the proper handling of small arms and the laws governing how to use them properly in a self defensive situation. Terry and staff made us feel welcome and at ease and answered all our questions. Being inexperienced starting out we felt more comfortable and confident at the conclusion after finishing our range training. Great course for all experience levels.
Timothy Sunkel
Great Instructor!
Terry is a great instructor! He keeps the class fun and he paces himself based upon the needs of the group. I learned some things about KY carry law I didn't know and he was very helpful to my wife as well on the range. I highly recommend his course. Thanks again!
Gregory Hoffman
personal
Great Class
Terry and his team put on a great class. Terry is patient with us old folks and helpful. I had not fired a weapon for over 40 years but Terry was right there to help me relive the old days. Thank you very much. Keep up the great work!
Dan Curtis
Terry Powers and his Team
Terry Powers and his team of coaches are exceptional professionals and very dedicated to teaching the course participants. Personally, I am very satisfied with the training and I recommend it for anyone who wants to learn about the handling of lethal weapons.
Luis David Cobas Amador
Excellent classes
Excellent classes and way of teaching, for me being a beginner in shooting, the instructor Mr Powers taught super well and gave me the reliability to be able to master my weapon. Excellent course and dynamism for others.
Fanny Rodríguez
Great Class and Great Instructor!
Terry's class was hands on, interactive and fun! As a first time CC holder, I was anticipating a dry and boring class, but it was the exact opposite. Terry was very thorough, and focused heavily on safety. I highly recommend this class to anyone.
Harper Wells
Terry made the experience wonderful
I attended the training last weekend and I have to say I was nervous. But once the class began I knew I made the right decision. Personal attention to gun I have, the training to be a responsible gun owner as well as finding the right stance for me in my type of gun. My God truly bless Terry and family.
Best 8 hours I spent on a Saturday in a long time.
MARSHA Downs
Very Good Refresher
After I let my previous CC license expire years ago, Terry's class brought it all back. Great re-learning experience. I especially liked the heavy emphasis on safety, which is by far the most important aspect of firearms training. Highly recommended!
Bob Solley
Great class
Thank you so much Terry! It was a awesome class! Very informative. I appreciate your confidence in me!!
Lisa Bartlett
Awesome class
Terry was very knowledgeable and friendly. Class was a pleasure to attend. I highly recommend it!
David Estes
Highly Recommend
I knew immediately Terry was the right instructor for me. His calm voice and his sense of humor when appropriate was impressive. His attention to detail and his approach to safety is paramount. His passion soon became my passion. I highly recommend Terry's class if you are in the market for a low stress, safe, and informative atmosphere.
Anne Brow
conceal carry class
Terry was very thorough. I enjoyed the class and I was really impressed with his attention to safety. I would recommend this class to anyone.
Thanks Terry
Todd Fain
Great CCDW Class
Terry (and Son) was great. Terry made everyone in class feel comfortable. He was knowledgeable and you could see his passion for gun safety and making sure everyone was informed of their rights under the law. He applied real life scenarios to his instruction and asked us lots of questions to gauge our understanding.
I will definitely recommend Terry to others
LaDonna WAKEFIELD
Outstanding Professionalism and Skill!
My husband, prior to class, had commented how great Terry's communication was and now wonder. Once we got there his passion for gun safety and just caring for people in general was the extra touch to why his class is THE BEST. Terry makes all feel comfortable regardless of experience.
Love his family, his son and nephew helping who too are greatly skilled in arms and bring their own insights and tricks to the class.
I walked away today fully confident and educated to own a concealed deadly weapon and also feel we made new friends.
Don't look any further- book with Terry!
Lori Bischoff
Absolutely Great Experience
Let's start off by saying that I registered at the worst possible time, just before the Covid-19 pandemic. Because of this the class had to be postponed multiple times to both comply with state restrictions as well as to ensure the safety of the class. We were all kept informed of the situation by both Email and by text as the situation developed. I greatly appreciated all of the care that was taken to keep us safe and the time that was taken to keep everyone informed. Once things started to return to some normalcy and we could take the class things went more smoothly than I could have imagined. Terry is a fantastic teacher and made sure to answer any questions that were asked, as well as explain some of the intricacies of the laws. Terry even went so far as to take a little extra time to help those that were less familiar with their firearms or just firearms in general. All in all it was an amazing experience and I will gladly recommend anyone interested in getting their CCDW to talk to Terry. Thank you.
Joshua Hensley
Terry is the greatest!
Terry is the greatest! Very thorough in explaining things and coverage was great. I would highly recommend, if you would like to get your CCDW this is the place to go.
Awesome class. Thank you Terry
Tennia Meier
Informative instructior
Terry reminded me of a few military instructors. He gave you the info you need to be safe and aware! Told us the do's and dont's with full confidence. He left no gray areas. Super personality-trustworthy! Ideal class to take for the novice or experienced!! Thanks for your help Terry!
Anthony Murrell
Smith-Murrell remodeling and construction
Fantastic class for a beginner!
Fantastic class for a beginner!
Terry is very patient, knowledgeable, and a great instructor of Kentucky deadly weapons laws. He offers practical tips for women shooters.
My confidence was built through taking instruction with Terry.
I recommend him for beginners as well as experience marksmen that want to earn a CCDW license.
Roseann Thrush
TDC
What a Great Class !!!
What a Great Class !!! Terry was a great teacher for someone that was so nervous !!! Made me feel very at ease . He was very knowledgeable and patient with all the questions. Took his time during the classroom time and at the gun range to make sure everyone was confident in what they knew and needed to know !!!! Would recommend this class and Terry as the instructor for newbies and for veteran gun owners.
Denise Brown
Great person and a great class
Very educational and informative class, Terry is a very friendly and nice guy, he will help you with anything you need to learn and is sincere and passionate about his students and his program. 5 stars
Joseph Dane Fortner
I took Terry's class today
I took Terry's class today and I have to say I was very impressed with the format. There was a lot of information and Terry was very helpful with any questions that was asked. I would recommend this class for anyone wanting to get their ccdw License. Thanks Terry
Kevin kessinger
New learner
I purchased a firearm about a year ago for home protection, but never learned how to use it. Terry's class was recommended, so I decided to give it a try. Terry made the classroom learning an enjoyable and fun session, but when we arrived at the range, it was time to get serious. Because I did not have a lot of knowledge in handling a firearm, I was shaking and thought my knees were going to buckle. Needless to say, Terry was very patient and made me feel as comfortable as possible when I fired the first shot. Because of his class, I have the knowledge and ability needed for protection and cannot wait to get back to the gun range. Thank you so much Terry!
Best Regards,
Patricia S.
Patricia Swain
Very good man enjoyed taking
Very good man enjoyed taking his class knowledgeable had a great experience thanks Terry
Aaron Goatley
S&S CONCRETE
Great experience
I've only owned a handgun for a few months and wanted to get my ccdw permit. Well I'm really glad I found Terry's class because I learned a lot of valuable information as well as even having a few laughs during the whole day. I would definitely recommend it to anyone wanting to get their ccdw permit. Terry himself is a great teacher and person as well and I left the class with a lot of information and a good time.
jordan taylor
Great Class, very well organized
Great Class very well organized and professionally presented. It includes lots of useful information and also has hands on training that is valuable for both the novice shooter as well as the the more experienced shooter! I had a great time and learned a lot. I would recommend this class to anyone wanting to get a CCDW permit.
Paul G Conard -Retired Teacher
Paul G Conard
Learning experience
Was nervous at first but Terry soon puts you at ease! Would advise this class for all senior ladies. In today's times it is very much needed in order to feel safe!
Ruth Lucas
Awesome Experience
Terry did a great job! So glad we took his class, he made everything so easy. Great instructor and easy to work with!
Bruce ONeil
5027594259
Awesome experience
I loved Terry's class! He is serious about what he teaches but teaches in a manner that is fun and interesting. He is very approachable and knowledgeable. Would recommend this class to anyone regardless of your firearm experience!
Kristy
WOW! SIMPLY AMAZING EXPERIENCE!
WOW! Simply amazing!!! I couldn't wait to get home to write my review about my experience today 06/23/2018, concerning my CCDW training class with Mr. Terry Powers. This man is just plain AWESOME, professional, nice, outgoing, and very knowledgeable concerning his training classes. He gets right to the point, adds laughter, and his unique personality to the course. I didn't know what I was in store for, but the information, videos and training he provides makes the class fun, and before I knew it, time had passed by so quickly. He is SERIOUS when teaching his CCDW class, and he takes the time to answer your questions and concerns. You'll never feel out of place when taking his class, and never have to feel embarrassed if you are NEW or inexperienced when learning about guns and how to use them. I had NEVER used a gun before, and was a bit nervous about shooting one, but after getting some important knowledge from Terry, I did very well. I learned some valuable information that will help keep me safe, and knowledge and wisdom concerning the laws involving CCDW. I recommend Terry's training class to anyone and I will be sure to pass my experience along to my friends, family and coworkers! Even if you're experienced with guns, taking his class as a qualification to aid in getting you licensed for your CCDW, the benefits from his class is a tremendous asset!
Terry Foster
Very great class and instructor!!!
Terry is a very polite and nice guy to get to know. His class was super informative and he had the answer to any question you threw at him. Very easy and will work with anyone! I would highly recommend Terry for your instructor to get your CCDW!!
Blaine Churchman
What a great class.
What a great class. As I sit here cleaning my gun,because of going to the gun range, I thought to myself that I thoroughly enjoyed his style of teaching. Terry is the best guy in town, highly recommended !
Captain Pete Hall
Stabbert Maritime
Best instructor you will find!!!
Terry Powers ccdw class is both informational, and fun! I would very highly recommend taking his class! Thanks Terry
Anonymous
Very personal and informative!
My husband and I attended Terry's CCDW class today and we highly recommend Terry to anyone interested in getting their CCDW. His class was very informative and he took the time to answer any questions that was ask of him and made sure we all understood. He taught us the proper way to handle and fire our firearms. I was nervous about taking the class but Terry made it a great experience. If you are thinking about taking your CCDW class, Terry's is the one. You will leave knowing you have been given the proper knowledge to be a responsible gun owner. Thank you Terry!!!
Gayle Runyon
Very personable Instructor
Terry is very personable and made sure everyone felt comfortable throughout the class and at the range. I wouldn't recommend anyone other than Terry for their CCDW course.
Jen chamblee
Great Concealed Carry Instructor.
Terry Powers did a great job teaching the concealed weapons class. He was well informed and answered each question with patience and concern that we understood exactly what was taught. He was very thorough with each part of the training, stopping the teaching film several times to explain and for questions. I would highly recommend him to any of my family and friends who wanted to take a class.
Robin Imbrogno
REVIEW FOR TERRY POWERS CC INSTRUCTOR
We own a security systems and camera business, Saint Michael's Security Systems. We understand the need of homeowners to defend themselves properly and also understand the laws of Kentucky before doing so! When one must go outside of the home, one also needs to know the laws and methods to protect oneself. It is essential to comply with our laws and be responsible gun owners and know what we can and cannot do, how we should handle potential situations and how to be truly safe in doing everything. I appreciated that Terry Powers is a very relaxed and thorough instructor. He never rushes, yet covers all the material completely without boredom! It is a long class and covers a vast amount of knowledge, and truly prepares you for your exam to complete your Concealed Carry class and certification. My sister and I took this class together and found it very informative and the instruction was obviously from a VERY EXPERIENCED teacher who was patient and kind, and who took the trouble to really do it right! We liked the fact that he really embodied the perspective of the Christian gun owner who wants to properly and responsibly comply with all the laws and regulations of the state and understand the dangers of the real world, and our place as Christians in this environment, which is a unique position! Thanks to Terry Powers! I asked him for a stack of business cards, and have nearly given out his cards to people and touted his abilities as a wonderful instructor. We are grateful to have been led to him and highly recommend him for the complete first time ever shooter, or the experienced person who needs his or her concealed carry license but needs to really understand the laws. I recommend that the City of Louisville would consider having him offer this class to HIGH SCHOOL students in our community and feel it would reduce violence and errors, and inform the public about the laws that people do NOT KNOW that would make the DIFFERENCE if they knew them. Thank you. Carla and Paula Base, Louisville, Kentucky ***********
CARLA BASE
Great instructor
Me and my wife took Terry's class. He is the best instructor anyone wanting to take a CCDW class could choose. He keeps his classes small to give everyone the attention they need and in a relaxed environment so you feel at ease and comfortable. He shows you how to clean your gun and handle it the proper way. He is very knowledgeable about the laws of conceal and carry, answers all your questions and makes you feel comfortable when it's time to shoot at the range. We recommend Terry to anyone who wants to take a CCDW class. You can't get anybody better than Terry Powers. Kerry Brooks
Kerry Brooks
Concealed carry class
I thoroughly enjoyed the class. It was very informative and learned the proper way to load, carry and what to do and not to do with a firearm. Terry is a very good instructor and very patient as this was my first time to handle and shoot a gun. I would highly recommend his class.
Daryl Kelly
Wonderful experience and a GREAT instructor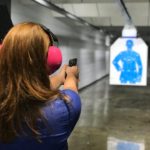 At first, I was very nervous to take the class. I did not know much about guns and had not shot in quite some time. Terry was a great instructor and was very knowledgeable of all the things he taught us. It was a very relaxed and great learning environment. He helped ease my nervousness by answering all of the questions we had and demonstrating being a safe gun carrier. I enjoyed learning so much from Terry and will be reccommending him to everyone!
Rachel Claborn
Excellent Instructor
I was very nervous about taking a conceal carry class. I had never shot a gun before the class. Terry was very thorough in explaining everything from how to clean a gun, how to hold it properly, why it is important to inspect your ammo before loading your gun, and how to use the sites on the gun to aim precise. I enjoyed the class and highly recommend using Terry as your instructor.
Barbara Back
Terry is a great instructor.
Terry is a great instructor. He is very knowledgeable and very friendly. He creates a very relaxing environment in which to learn and makes it interesting. The class was a very enjoyable day because Terry made it that way. We have and will continue to recommend him to friends and relatives for CCDW classes. Larry and Marla Robinson
Marla and Larry Robinson
Had a great time during
Had a great time during class. Videos a little dry but required. Instuctional part very good. My wife shot for the first and did very well, thanks Terry.
J. Brooking
Terry is an great instructor
Terry is an great instructor for the conceal carry of deadly weapons class! He is very professional and knowledgeable of the ccdw class. He answers all questions the class has. I would highly recommend him!
Laura Jupin
Great experience
This was the best course I have every taken. Comfortable environment with an experienced professional. Terry Powers thanks for a great time. Appreciate having the opportunity to carry the knowledge instilled within me from the course.
Robert Jupin Jr
N/A
Terry was Awesome
The CCDW class was great. It's very straight forward and knowledgeable. Terry will sit and listen to everyone and every question and answer as thorough as possible. I learned a tremendous amount of information with the material that was shown. Keep up the good work man. My referrals will be heading your way soon!
Justin Vance
If ur looking for an instructor, look no more!
Terry is a great CCDW instructor! He kept what could've been a very boring class interesting. He's very down to earth & very informative. No questions go unanswered & he makes sure you're comfortable with what you are doing come shooting time. I would highly recommend Terry's course to get your CCDW whether you are experienced or not.
Cassie Danner
Terry Powers is "The Man"!
Today I attended Terry's class and let me tell ya! He's an outstanding coach and he's an expert in the ways of the weapon. Along with being super knowledgeable he was very entertaining! Now I can protect my loved ones and myself with sheer confidence and discretion. Great job Terry!
Matt Hayse
Totally Clips Pet Salon
Great instructor
Great class, great instructor,  will definitely pass this site around as he made it fun the best he could.
John alan craddock
GREAT CLASS!! Terry is a
GREAT CLASS!! Terry is a great instructor, very knowledgeable and answered all our questions. And made it fun. Will tell everyone I know to go to him for this class. Thank you terry!!
Kathy Irvine
Terry Powers is the BEST
Chose Terry's class over the many others I researched because of his great reviews – and I'm glad I did. He was extremely knowledgeable, created a great and comfortable environment to learn in, took time to answer questions thoroughly and made sure you were ready. Would highly recommend! Rick L. Louisville
Richard Laemmle
Excellent Instructor, Excellent Class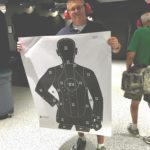 Terry and his class came highly recommended, and the recommendations were right! The class is both informative and fun. The information is presented in a format that's easy to comprehend and Terry is ready to answer any and all questions. Most notably the range portion of Terry's course is no pressure. If you're looking to take Kentucky CCDW course then Terry Powers is the instructor you're looking for.
Donald
What a great class! And a fun time too!
I took Terry's class today. I would definitely recommend Terry to anybody wanting to take this class. He was very informative and really knew the laws well. It was also a fun class thanks to Terry and the group that I. was with . I was very nervous to take the class. He knew I was nervous and really made me feel very comfortable. He took his time with me which helped me to relax. Like I said I would recommend him to anybody wanting to get their CCDW.! Thank you so much Terry you were awesome!!!
Tammy Hoskinson
Terry is the greatest!! He cares about his students!!
If Terry could survive our class, he can teach anyone! We were a small, fun-loving class that Terry took in stride! The law portion of the class was done through mandatory videos that would put you to sleep, but Terry would often stop the video to discuss things to make sure we understood. He would also give examples that made it easier to understand the law. I really appreciated his willingness to use my pistol as an example during the cleaning demonstration. He relieved some of my fear of sticking my finger into the chamber to release slide for cleaning. I still ain't excited about it because it will snap back very hard if you're not careful, but he did and it was his first time to work with a pistol like mine! Having never shot a pistol, I was apprehensive about going to the range and shooting with others. But apparently, Terry's instruction and recommendations were very good and soaked into my head! I placed 16 of 20 shots inside the circle; another 1 touched the outer edge of the circle; 2 others were within a 1/2 inch of the circle; the worst shot was least than two inches outside the circle! Terry is an excellent instructor who cares about his students and takes personal interest in their concerns to help ease their minds. I highly recommend Terry as a CCDW class instructor.
Jack Nix
Had a great time today
Had a great time today hanging out with Terry and the class. Great instructor and very informative in his classes. Took this class myself in November and it was just as informative and fun. Most all of the paperwork is already filled out for you. Makes things as stress free as possible! Thank you
Danny Nichols
This class was great!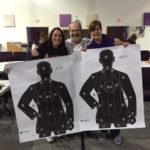 I was apprehensive to say the very least when I finally got signed up to take this class. I have never owned a gun and did not grow up using guns. Terry was so thorough in the class explaining not only the laws but the safety procedures that are so important. He also talked a lot about the responsibilities of being a gun owner, this information will help me tremendously. Terry is very knowledgeable and I would recommend this class to anyone out there looking to protect themselves with a concealed weapon. As a pet sitter, I go to many homes, many in the country, at night and early morning hours. I hope that I never need to use it but if I do, I will be more confident because of this class. Thanks Terry!
Kelly Catlett
Simply the BEST!
I just wanted to say that I researched CCDW classes in the Louisville area looking for the best class & chose Terry's because of the testimonials. I attest to the prior comments that have been made about the class & was very pleased that I made this choice. It was held in a very comfortable environment & the film presentations were easy to view. Terry is an excellent instructor who has an extensive knowledge of the CCDW laws & was able to answer all questions in terms that everyone could understand along with pertinent examples. He was very patient at the shooting range & put everyone at ease. My group truly enjoyed Terry's class! We all learned some valuable information & had some fun too! If you are wanting to get your CCDW permit, I highly recommend you choose the BEST –Terry Powers! Thanks Terry!
Pam Frazier
I highly recommend this instructor
I highly recommend this instructor for your CCDW class. Terry is extremely knowledgeable and puts all of your concerns about the class at ease. He keeps his class size small so there can be individual attention if needed. I really enjoyed the class and walked away feeling comfortable with what I learned. I highly recommend Terry Powers as your instructor! Thank you Terry!
Adina Nethery
First time gun handler
I did not grow up around guns and to be honest I have had a fear of being a gun owner, but in society today I feel I must be able to protect myself and my family. Before the class I had only shot a gun once. I was very nervous, but Terry was very understanding and put me at ease. I would definitely recommend Terry's class to anyone who maybe new to handling guns. He gives one on one attention when needed and is willing to answer any questions! Thank you Terry!
Samantha Bowman
Thank you Terry!
I took Terry's class January 30th, 2016 and I was very nervous! I did not grow up around guns, in fact before Terry's class I had only shot a gun once! Terry was very patient and spent time putting my nerves at ease. He is willing to take the time to ensure that you are comfortable and he is willing to answer any question! I would recommend this class to anyone that is new to handling guns and are looking for someone to help put their nerves at ease! Thank you Terry!
Samantha Bowman
Samantha Bowman
Terry Powers is " the bomb " !!!!
I had Terry as my instructor for my training in Jan. 2016. I am here to tell you, he is very good at his training in many ways. He not ONLY takes it very serious, but makes it entertaining and comfortable which makes ANY serious learning experience more enjoyable! Terry is also very good at explaining ANY question to its fullest and makes sure that you understand the answer, and if not, he will try a different way to explain it till everyone can and does understand. TERRY POWERS ROCKS !!!!!!! If anyone is needing to take the course, first timers, or one who needs a refresher class for any reason, Terry Powers IS your guy !!! Please sign up for a class, I promise, U will NOT regret it!
Dana Semar
Dana M. Semar
Very Accomadating
When I took Terry's CCDW class I was in charge of organizing it. He worked with me and made this as smooth as possible. As far as the class goes he made everyone feel very comfortable and gave us so much good information. You could tell this was something that he was very passionate about and that passion went a long way in instructing us.
Derek Hensley
When I took Terry's class
When I took Terry's class I was still very nervous around guns. Terry really taught me so much about gun safety that helped me feel much better and safer with my gun. I would recommend his class as he takes time to help you learn and understand everything you need to know. Kim H.
Kim Hensley
Excellent
I would recommend Terry to anyone wanting to take CCDW training. Very thorough and informative. Excellent instructor.
Patrick Pierce
Great Instructor
I attended Terry's CCDW class on Saturday September 26th, 2015. The classroom time was in a very comfortable setting. The equipment used to present the video was excellent. Video was clear and the audio was of great quality as well. Terry offers a great understanding of the laws surrounding CCDW licensing and covered some of the federal restrictions about where you may carry firearms. i.e. hospitals, doctors offices, etc. because they are regulated by federal law. I would highly recommend Terry's class to anyone wishing to pursue their CCDW license.
Steven P. Ernspiker
Terry calmed my fears-He rocks
I truly enjoyed my class as I was very nervous but Terry helped me feel so at ease. Everyone should take this class if they are at all interested in Concealed Carry. Thank You Terry.
Myra Cochran
My shots are on point now!
Terry not only made sure that we had a great understanding of gun safety but he also helped provide a strong understanding of the law and how to aim a gun properly. This class taught me so much and I am very thankful that I had such a great teacher to help me better understand the rules and regulations of guns. I noticed that after attending this class that my shots are a lot more accurate and on point. Thank you Terry for providing such a very fun and well put together class.
Alexa Brunner
Working with Terry was a FANTASTIC experience!
I have personally known Terry for over 25 years and never knew he held the concealed carry permit. He is that responsible and does not "push" guns nor is he anything, but a consummate professional. He does not carry when it is not called for, he does not "flaunt" his knowledge and preferences, and approaches everything he does as if time does not matter; his purpose is to teach, train, and foster the correct privileges such that we maintain those rights we have and use responsibly. Terry is flat out good at what he does, is ethical, and takes whatever time is necessary with a student rather than just "pass them on". I highly recommend Terry and you will enjoy his sense of humor as well as his dedication to making sure his lesson is fully absorbed for your safety as well as others. Worth every penny!
Bill Liedtke
OpsRescue, LLC.
Very informative and knowledgable .
Terry Powers was not only very knowledgable about the various gun laws but his class was so informative and enjoyable . I learned so much and really enjoyed the time I spent there .
Tammy Brunner
Very good instruction
This was a very good CCDW class.  Learned a lot.  Very good instruction.
Anonymous
I learned a lot!
Terry Powers did a great job.  Was very knowledgeable about the guns and Kentucky gun laws.  I learned a lot and would definitely recommend him to others.
Jamie Graybill
Informative
The class was informative, practical, and applicable.  The instructor's comments were concise and practical.  He reviewed main points very well.
Anonymous
Will Recommend…
Was very informative and made everyone feel at ease.
Did a great job of emphasizing safety.
Will recommend this instructor to others interested in taking this course.
Anonymous
Easy to understand
Very informative, easy to understand all instructions.  Covers the laws in easy to understand terms.  Would recommend this class to everyone.
Louis Imbrogno
Excellent Information
Keeps things moving well, offered breaks.  Answered all questions.  Great job, will recommend to others.
Ed Gunn